Men Look for Sex and Find Love. Women Look for Love and Find Sex.
Posted by Evan, 11 Sep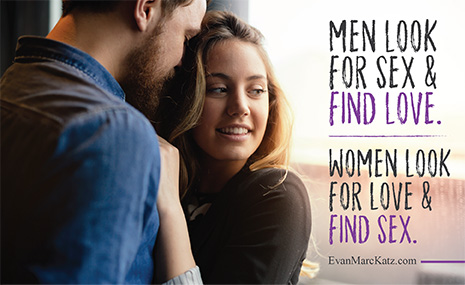 I received an email from one of our readers, Laura:
Hi Evan,

Find your soulmate on LatinoLicious

I've been online dating for a while now, and I've started to notice a trend with a lot of the men who have contacted me. By way of background, I just ended a three-month relationship with a man whom I met online because he did not want to be exclusive. He claimed that he didn't want to date other people but he was hurt several times in the past by cheating girlfriends and didn't want me to go thru the hurt again. For my part, I realize I'm at fault for waiting three months before asking for some type of commitment.

Hindsight has pointed out that on his profile he listed he wanted a "casual relationship" as opposite to my listing of wanting a "serious relationship". So now I'm back on the online dating scene and I'm paying better attention to what guys are saying they are looking for in their profile. Several guys put in their profile that they are looking for "friends" only, one guy even put that he's too busy for a relationship right now.

Is this a case of semantics? Are these guys really just wanting to take it slow and be friends first? If they are really just looking for friends, why don't they go on a free site like MySpace, Facebook, or Friendster? If it's just a clever way to find booty calls, why don't they go on hookup sites? If I want a bona fide relationship, should I just ignore these men when they contact me? Has looking for a relationship on a dating website become taboo?

Thanks for your insight,

Laura
Brace yourself for a shocking revelation!
Men very often don't know what they want.
This shouldn't come as a surprise to you. You could probably tell from our actions. But it's true. Most men can tell a story about how they weren't looking for anything serious and then fell in love. And most men can tell a story about how they were looking for love, but discovered they had a lot of fun being single. (Most women could probably say the same.)
"Just because he has fun with you doesn't mean he wants you as his girlfriend"
Therefore, you have to take any information in an online dating profile with a grain of salt. It's not that he DOESN'T mean what he wrote; it just means he meant it AT THAT MOMENT. This is in accordance with the way we act on a date as well. Just because we think you're attractive and we show you a good time doesn't mean we're actually INTERESTED. It just means we're being "in the moment".
Unfortunately, most women aren't familiar with this concept until it's much too late. That's why half of my questions are versions of: "He sleeps with me, but-", "He says he loves me, but-", "We had an amazing date, but-". One of the most important – and frustrating – concepts that women need to get about men is that most things have NO meaning, beyond what's being conveyed in the moment. Just because he wants a serious relationship doesn't mean he wants one with YOU. Just because he has fun with you doesn't mean he wants you as his girlfriend. Just because he thinks you're sexy doesn't mean he wants to commit to only you. Each time you think this is the case, you're setting yourself up for heartbreak.
And so we go back to Laura's insightful question – what does it all MEAN?
Well, I can only speak for myself here by pretending to be a guy dating online (I know, it's a reach. Bear with me).
So let's say I'm serious about falling in love. I go onto a dating site and list that I'm looking for marriage or a relationship. So, week after week, I date a lot of attractive women, none of whom feel like they will be my future wife. Which leaves me a number of questions that I'd like you to consider:
Am I supposed to NEVER hook up with them? No kissing, no foreplay, no sex with anyone that I don't think I want to marry? Do you think the standard should be: heavy petting is only in exclusive relationships, or not at all?

If I DO hook up, but have no intention of committing to an individual woman, does that make me a bad guy?

How should I notify a woman that I am not serious about her before we start a physical relationship? What's better? A written warning? Or perhaps a canned speech that while I find my date attractive and will gladly sleep with her for a few weeks, I'm actively continuing to pursue other women in the meantime? How's that gonna go over?

Finally, if I do, in fact, want to hook up from time to time, does that, in any way, mean that I'm NOT looking for a serious relationship?
These are real considerations that go through the heads of real guys who want real relationships. But just because a man aspires to love doesn't mean he's above the lust and passion that comes from short-term flings.
So how are men supposed to navigate this space with any integrity?
"Men look for sex and find love. Women look for love and find sex."
That's right. We can't. We're damned if we do and damned if we don't.
You may feel that: "I just want a guy to be honest with me. Believe me, I sometimes want to have sex, too, but I just want to know where I stand. I don't want to get hurt. He should be man enough to tell me the truth."
Sorry. We've got a different truth.
The truth is that we're attracted to you in this moment.
The truth is that we're not sure if we want a relationship with you.
The truth is that if we tell you that we don't know what's going to happen in the morning, nothing will ever happen.
So we say nothing. And hope that you don't get too attached.
Why don't we go to any common hookup site for easy, no-strings-attached sex? Because it's kind of skeezy. Because there's no challenge and no human connection. Because we actually want someone that we can talk to, vent to, and hang out with.
So understand, Laura: while it might work for YOU if commitment-confused men restricted themselves exclusively to the "adult" personals, it doesn't actually work for MEN.
Men look for sex and find love. Women look for love and find sex.
The exceptions don't disprove the rule.
If you find this confusing and want to learn how to navigate this emotional minefield, I am here to help. There ARE good men out there. There are relationship-oriented men out there. And often the difference between the players and the committers is YOU. The right woman at the right time can make a man want to stop playing. I know. It happened to me.
Warmest wishes,
Your friend,
Evan
Evan Marc Katz is a dating coach who specializes in helping smart, strong, successful women understand and connect with men since 2003. Thousands of his clients have fallen in love, gotten married, started families, and found happiness – after only a few months of coaching. His latest dating book, "Why You're Still Single – Things Your Friends Would Tell You If You Promised Not to Get Mad", was a critical success. He also operates a popular blog, EvanMarcKatz.com, which serves as a one-stop shop for anyone trying to understand relationship dynamics. Combining the insight of Dr. Drew and the wit of Adam Carolla, Katz has answered hundreds of challenging and controversial questions with a unique combination of logic, experience, and empathy. Take Evan's dating quiz.
8 responses to "Men Look for Sex and Find Love. Women Look for Love and Find Sex."
Leave a reply
You must be logged in to post a comment.