Why Women Should Make Men Wait For Sex
Posted by Evan, 25 Jul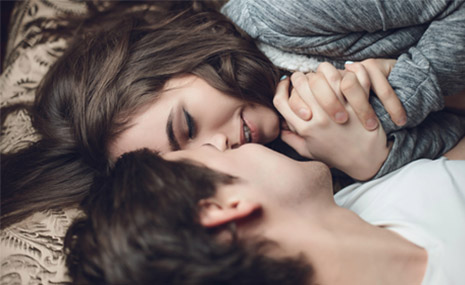 Now I know that writing this is not going to change a thing. People who were irked by the concept that women should make men invest more before having sex are still probably going to be irked – but at least I'll know that I gave it my best shot to illustrate my arguments effectively. Okay, ready? Here we go.
Find your soulmate on LatinoLicious










Believe it or not, most men do not lie in order to get sex.
First of all, here was the premise of my original post:
"You want to find out if a man is serious about you? Wait to have sex with him. If you don't – because you're a liberated woman who can have sex whenever you damn well please – don't be too surprised if a decent percentage of those men never call again. Again, I'm not remotely judgmental of those who have sex without commitment; I will only point out as a dating coach that it tends to lead to sub-optimal results from men because they didn't have to do anything special to get into bed with you."
I can't see anything about which one can argue. As always, I was wrong.
Below are some of the comments I received (in italics), along with my responses.
"What about having sex for the sheer joy of it without any agenda and expectation?"
What about it? If you can have sex for the sheer joy of it without any agenda and expectation, then my advice to hold out for a commitment should be completely irrelevant. How irrelevant? As irrelevant as me wondering how often I should get a mammogram. Seriously. If advice doesn't apply to you, then you can absolutely ignore it. What you can't do is argue with advice that is not intended for you.
This is the exact same issue I had with women who tried to pillory Lori Gottlieb's "Marry Him," by saying that they settled in their first marriage so Ms. Gottlieb's advice is completely "wrong." No it's not. If you're a woman who wants to have her own biological children, you have more options when you're in your early 30's than you do in your early 40's. Therefore, it's wise to take your love life seriously at a younger age, and make smart compromises when you have the most attention from the largest pool of high quality men. If you don't want to get married, if you don't want to have kids, and if you would rather be alone than make any compromises, Ms. Gottlieb's advice would not apply to you. No need to get upset.
"Sex doesn't keep any man who doesn't want to be kept. A woman can wait 6 months 6 days or 6 hours. If he isn't marriage-minded, it makes little difference."
Mostly correct. Alas, it wildly misinterprets what I was suggesting. Believe it or not, most men do not lie in order to get sex. As we've already established, they don't have to. Sex is so readily available from women that there's no incentive for a guy to have to say something untrue like, "I love you" or "I want to be your boyfriend" in order to get laid. And if that's the case, then guess what? Holding out for commitment will, in fact, scare the guy away who only wants to get laid.
It's not about a number of dates or months: it's about assessing his intention: does this guy really like you or does he just want to have sex with you?
Naturally, calling a guy a boyfriend doesn't guarantee a lasting marriage – not by any stretch of the imagination. But it does do one thing: it ensures that the guy you just slept with is not seeing anybody else and is seriously open to exploring a future. (Unless, of course, he's a psycho who would lie to your face to get laid – and I'm suggesting most normal men would rather find another woman than to do that.)
"There is a shaming of women for wanting to have sex."
From whom? Not from me. As I said in my original post, "I'm not remotely judgmental of those who have sex without commitment." Hell, I've had a lot of sex without commitment. But guess what? Most of it was completely selfish. I was attracted to them on date 1, 2, or 3. I had no intention of stepping up as a boyfriend. And if she let me know that she didn't sleep with guys outside of a commitment, I'd have been out the door in a heartbeat. Which is the entire point of my suggestion – it weeds out the guys who aren't serious about you really fast.
"This is why so many feel "used" because they waited a month, or two, or three and finally "gave in" and POOF he's gone anyways."
I didn't say that you should wait a month or two or three before "giving in". Waiting for some arbitrary time period has never been the point. Because, you're right: a guy can "wait you out" for 7 arbitrary dates, fuck you, and then bail. But since most men do not want the hassle or the emotion of calling you a girlfriend and THEN bailing, by refusing sex without commitment, you weed those guys out. Understand, if a guy is really into you after 3 dates, you can both agree to give a relationship a shot and have sex. I've done that a number of times – where I was so whipped that I dove into an exclusive sexual relationship right away. So it's not about a number of dates or months: it's about assessing his intention: does this guy really like you enough to commit or does he just want to have sex with you?
"We woman are damned if we do and damned if we don't. Have sex too soon and you're considered too easy. Wait too long and the guy will get it somewhere else."
Nope. No one is calling you easy for having sex. No one is suggesting that you're losing out on a prize of a man if he values getting laid in three dates over how much he values you. You think you're damned either way. I think you have all the power in the world: to be sexual, to assess your options, to understand his point of view, to make him feel good, and to STILL insist that your man be interested in pursuing a relationship before you have sex.
"EMK's advice seems unrealistic for anyone not wearing a promise ring."
Actually, it's quite realistic. If you think she's playing games to "catch" you, then nothing I can do will convince you. But if you had a great connection with a confident woman who told you that she doesn't like the idea of you going home to write to other women online after you have sex, you would insist to her that you DO have the right to do that? Let me know how that conversation goes.
"Plus as a woman who likes sex, what the hell am I going to tell this guy if I don't like the sex?"
You break up with him. All you people who are focused on "test driving" the car, I get it. Sex is important. But that's the thing about dating: you have TWO PLUS YEARS to figure out if you want to get married. Sexual compatibility is one of many factors you'll have to consider in determining your future. But choosing a boyfriend is a considerably lower bar to jump than choosing a husband.
You "sex first" people act as if you have to have sex before commitment or else. Or else what? Or else you'd discover after a month that you have different libidos, or that he isn't great at cunnilingus? You think you have to discover this BEFORE you have a commitment…but isn't the whole point of dating to continue to discover things to assess whether you can spend your life with a person? Again, I'm not saying sex isn't important. I'm saying that you can engage in lots of serious foreplay before having sex, give an exclusive relationship a shot, and if it doesn't work for ANY reason, you have the right to break up, one months, two months, three months down the line. In that regard, sex is no different than learning that he's got anger issues or is a bad communicator. You work with what you've got and if you can't make it work, you break up. You don't HAVE to have sex first; you WANT to have sex first. Which is fine – as long as the woman is up for the insecurity of not knowing where your relationship is headed. Many, as you know, are not.
"If our culture starts once again demanding and creating chaste women, you're going to get chaste women through and through."
Chaste means abstaining from extramarital or all intercourse. I'm saying that women should wait until he's a boyfriend, even if that means date 3.
"Best thing is to remove expectations so you will never get hurt."
As a dating coach, I spend a lot of time managing women's expectations and trying to ensure they're realistic. If you expect to fall in love in 30 days on a dating site, you'll be disappointed. If you expect that only "appropriate" men will write, you'll be disappointed. If you think that just because you had a great date that you're in a relationship, you'll be disappointed. What I'm talking about here is completely different. You can "remove expectations" and not be too surprised when the guy who fucked you is on a dating site the next day. I guess that's healthy. But why put yourself through that? Why not just save intercourse for men who verbally told you that they want to be exclusive with you?
Why remove all expectations from men and expect nothing from them? Remember, that's the biggest problem – you've seen it all over this blog: "Men only text! Men just want to hook up! Men don't want to pay! Men don't plan in advance! Men are players who don't want to commit!" And so the answer to that is to sleep with them, expect nothing, communicate by text, and take your chances that you both decide a relationship is viable? I don't like those odds.
If you're an intern who can't call regularly, has given no indication that you're looking for commitment, and refuse to wait a couple of extra weeks before having sex, my clients don't want you working at their company.
Now to avoid being misinterpreted: if you WANT to text, fuck, and not have any expectations from the guy, God Bless You. This advice has nothing to do with you and you should have absolutely no criticism of it. This advice is ONLY for women who are SICK of sleeping with men and feeling like crap afterward because they don't know where they stand. I will repeat this two or three more times.
"What I want to challenge you on is this notion that women ought to be bartering sex for commitment."
I would like to challenge that notion, too. Because my clients who hold out for commitment are not bartering sex for commitment.
My clients are taking enough time to see two things: 1) whether HE is potential boyfriend material – kind, consistent, communicative, relationship-oriented and 2) whether SHE likes HIM enough to make him her boyfriend. Because as you know, it's easy to have sex with someone out of attraction. But attraction is not a good predictor of compatibility. So if my clients take a little extra time to get past the initial lust phase and start to see a man clearly, they can usually tell if he is making enough effort to be a boyfriend AND if she likes HIM enough to commit to him.
This is coming from a place of POWER, not weakness. In my world, women are the CEO's and the men are the interns applying for the job. And if you're an intern who can't call regularly, has given no indication that you're looking for commitment, and refuses to wait a couple of extra weeks before having sex, my clients don't want you working at their company. The petulant interns who think that they deserve to have sex with women without commitment because it's been three dates are not going to get the job. They will feel righteous, as if the woman is being a prude or playing a game. She is not. She is putting herself first because she has determined that sleeping with a man and waiting by the phone for him to call sucks and she doesn't want to have to go through it again. I believe that's her right. Just as it's his right to bail. In my book, it's more his loss than hers.
These aren't tactics to "catch" a man. These are tactics to repel men who don't want to commit.
"What keeps guys around is not sex or the prospect of sex (although it sure doesn't hurt). It's a strong confident in herself woman who takes pride in herself and doesn't rely on sneaky tactics to try to catch or keep a man."
100% agree. A confident woman will have absolutely no compunction about telling some overzealous guy that she barely knows to keep his dick in his pants. It takes confidence to be willing to let a cute guy walk away because he is not getting his sexual needs met on his timetable. These aren't tactics to "catch" a man. These are tactics to repel men who don't want to commit and keep women from having their hearts broken by pump-and-dump guys.
Another aside for those who have forgotten: if you are fine having NSA sex with men who are not committed to you, that's your business. Whatever makes you happy. I'm not judging you, shaming you, or telling you that you're wrong. I'm telling women who hate the feeling of being in limbo with a man how to avoid being in limbo ever again.
"Being ready to share intimacy with a man you like and have a connection with is by no means being reckless. It's being real and embracing your feminine wholeness."
If you are comfortable sleeping with men from your place of "feminine wholeness" without any expectations, that's cool. Many women are not. This advice is for them.
"I had sex with my man on the first date and shortly after he asked me for a relationship and now I am claimed as his girlfriend."
Yep. A lot of relationships start that way. Most of mine included. I'm not questioning the morality of this. I'm questioning the effectiveness of it. When two strangers hop into bed for a night of passion, the dynamic changes, whether you like it or not.
Sometimes, he doesn't even like you as a person.
Sometimes, he likes your body, but not your personality.
Sometimes, he's really lonely and really horny.
Sometimes, he's seeing someone else at the same time.
Sometimes, he's on the rebound.
Sometimes, he's emotionally unavailable.
Sometimes, he's a selfish prick.
So when one poster defends her "fuck first, ask questions later" philosophy by saying, "I got to know him after sex. I got to know all my men after sex," what she's really saying is that she's willing to take a chance on a man who may not like her as a person, a man who is lonely, a man who is seeing other women, a man who is emotionally unavailable, or a man who is a selfish prick. Why? Because she has no expectations. And because she has no expectations and is perfectly willing to hop into bed with a guy, you should, too.
I'm not questioning the morality of this. I'm questioning the effectiveness of it.
Read that list again. Have you ever slept with a man like that? You don't think that if you went out with him 7 times over the course of 4 weeks, you could maybe have figured some of that stuff out BEFORE sleeping with him?
Another reminder: if you have no issues sleeping with men who are jerks, this advice isn't for you. But my intimation is that you're going to know a guy MUCH better – particularly his long-term intentions and how you get along with him platonically – after a month than after a night. So what's the harm in this again?
"Maybe we just like sex too and we need to get laid as much as men."
Cool by me. But that wasn't the point of the video or my blog post. It's to protect women who don't have that same outlook from getting hurt.
"Why would a man want a relationship with all that it involves when he can go have sex and leave and do whatever he wants?"
Because men look for sex and find love. In the act of pursuing sex, he gets to know you better and determines that he really loves being around you. The more he loves being around you, the more he'll want to be around you over all others. And when he values you over all others, he'll spend his whole life with you because what he gains from the relationship is greater than what he gives up by being monogamous.
"Sex is easy… a relationship is a journey. If these interactions are not at least playful and easy from the start, they rarely ever become."
Agreed. No one wants to have to negotiate for sex. Which is why it's in really bad form to ask someone on the first date what his long-term intentions are. And why it's in really bad form to ask someone if he's seeing someone else. And why it's in bad form to ask how many partners someone has had. And why I would never suggest that a woman come out and say to a man over appetizers: "By the way, I will not be sleeping with you tonight." Yes, that would take all the fun right out of it.
There is absolutely nothing wrong with a woman saying, on the fifth date when he's reaching for the condom drawer, "Hey, I'm really attracted to you and would love to sleep with you, however I don't like having sex with guys who are actively looking for other women on a dating site. You can understand, right?" And he'll say, "Yeah, I get it." And then she'll say, "So, when we both figure out if this is a relationship worth exploring, you're in for the night of your life. In the meantime, I can think of some other fun things to do…" And then they can proceed to explore each others' bodies to the limits of whatever boundaries she decides to set.
As an aside, it's interesting how some "no means no" women get really upset when I tell women that they're actually allowed to say "no". As if I'm restricting your choice or slut-shaming you for saying yes. I'm not. I'm only saying one thing: sleeping with a man without commitment increases your chances of getting heartbroken by a selfish, emotionally unavailable, commitmentphobic guy. If you are willing to take that risk because you love sex so much, more power to you.
I'm glad that I've outlined a paradigm that so many women have used to great effect. A woman can say no to intercourse and still be cool, fun, playful, sexual, confident and attractive to men. All it means is that she has her own very reasonable boundaries about when she has sex. If he can't respect that, he should move along.
Holding out for sex is not about holding out until marriage, tricking him into a relationship or trying to keep him around. On the contrary, it's about taking enough time to assess whether your guy is truly boyfriend-worthy rather than sex-worthy.
And, as I may have mentioned: if you don't care if he's boyfriend-worthy and you just want to have sex, fuck away as you see fit. No one's judging you.
6 responses to "Why Women Should Make Men Wait For Sex"
Leave a reply
You must be logged in to post a comment.