My Boyfriend Has a History of Sleeping with Prostitutes. What Should I Do?
Posted by Evan, 23 Nov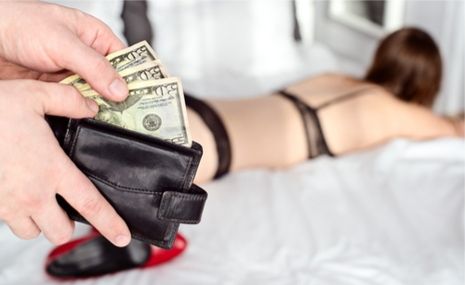 How does one deal with a man who has a history of having sex with prostitutes? Should one just let the past go? Well, here is one an email from one of our concerned readers...
I met a man online last year who has treated me wonderfully. He is everything my ex's have not been. He treats my child as his own. He is transparent (opens all accounts, phones, computers), honest, loyal, caring.

Find your soulmate on LatinoLicious

After one month of dating, he told me that he slept with prostitutes for several years. He's in the military and started with them as a virgin at 23 and continued until 28. He's seen around 20-30. He is 30 now (like me). He let me read his journal from those years. He never wrote about what they look like or the intercourse, so I don't think he was focused on "using them" but instead he wrote about how desperate he was to find someone to love and to settle down. He even tried to date them. He had a very hard time dating and was rejected often. He is a very sensitive man. I can tell that he was looking for a connection, love, and intimacy. He also wanted to get laid and that was an easy way to do it. He believed that it was more respectful to pay a woman for the act instead of randomly hooking up with someone at a bar. However, he was arrested at 23 for it and still saw them for years after that. That alarms me. He feels regret and remorse but I just can't get past it. It doesn't bother me all of the time, but it comes up from time to time and I feel worried that I'm making a mistake. Especially since I've been through a bad marriage. I don't think he is a sex addict like my ex; sex with him is very vanilla. He seems more interested in the connection for the most part.

Recently he flies to my hometown to ask my father for my hand in marriage and now he just proposed to me. I love him but I just feel worried sometimes, I am afraid of his past.

Like I said, he is wonderful to me and outside of this, he's pretty perfect for me and my child but I worry I am making a mistake. What do you think? Should I let his past go? Is it a big red flag?

Dani
Somehow, in ten years of writing this blog, I've never gotten this question and I'm really glad it was worded the way you worded it. It forces me to think about my answer and try to put myself in your boyfriend's shoes.
To be fair, it's a little tricky because I've never been to a prostitute. It's not that I never thought about it. I'd see thousands of ads in the back of LA Weekly and marvel at HOW MANY GUYS were willing to pay for sex. Personally, I couldn't fathom it – both because I had no money in my twenties and because half the fun of sex was in the act of seduction. Paying someone to be interested in me for an hour was far less interesting than charming someone into actually being interested in me.
But that's not who your boyfriend is. He's not a player. He's a sensitive man with no game who was willing to take the easy way out and straight-up pay for sex. I can't say I have any friends who've confessed to being this way, but I make it a policy to try not to be judgmental about different people's life choices. Especially if they're not hurting anybody else. And that, to me, is what makes your boyfriend's story feel more sweet than creepy.
While most men would never bring their sordid past up at all, and if they did, they'd minimize it, your boyfriend told you the whole story, his feelings about why he did what he did, AND shared you his journals from the time. You tell me he was looking for connection and that was the best he could do? I completely believe him.
Furthermore, I believe that (most) people grow and change a lot from 20 to 30, and again, from 30 to 40. I wouldn't want to be judged for the most embarrassing behavior from my early twenties, and I don't suppose any of our readers would want to either.
So, as surprised as I am to be saying this, I think you should let his past go and focus on how he treats you and how you feel with him, as opposed to behaviors he was open about a decade ago, well before he met you.
Evan Marc Katz is a dating coach who specializes in helping smart, strong, successful women understand and connect with men since 2003. Thousands of his clients have fallen in love, gotten married, started families, and found happiness – after only a few months of coaching. His latest dating book, "Why You're Still Single – Things Your Friends Would Tell You If You Promised Not to Get Mad", was a critical success. He also operates a popular blog, EvanMarcKatz.com, which serves as a one-stop shop for anyone trying to understand relationship dynamics. Combining the insight of Dr. Drew and the wit of Adam Carolla, Katz has answered hundreds of challenging and controversial questions with a unique combination of logic, experience, and empathy. Take Evan's dating quiz.
3 responses to "My Boyfriend Has a History of Sleeping with Prostitutes. What Should I Do?"
Leave a reply
You must be logged in to post a comment.