They Had Hit The Jackpot In Their Search For Love
Posted by Leticia, 19 Mar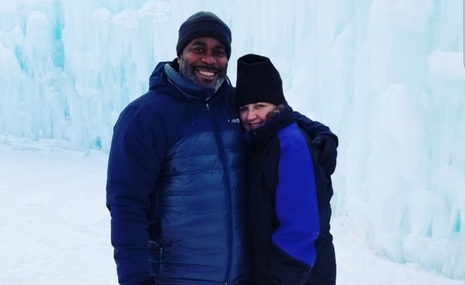 Robin and Anthony are now engaged. But not so long ago, they had profiles on our site with the handles "Dallas75252" (Robin) and "EsilorMan" (Anthony).
We asked Robin what drew her to online dating, originally... "I work long hours, and it was hard to meet anyone naturally," she explains. Robin adds that she was "not so sure" the Internet would ever lead her to love.
Find your soulmate on LatinoLicious










In Anthony's case, it was actually a woman he was going out with who sold him on the virtues of sites like ours. "I was told about this site on a date," he chuckles. "I thought it was worth a shot!"
About two months into his membership, Anthony spied Robin on the site. And what stood out about her? "Her profile picture," he answers immediately. "She's gorgeous!"
This was "a few weeks" after Robin posted her profile. "He Flirted with me first," she recalls. What prompted her to reply? It was "his last picture," she tells us. "He looked to have a fun side."
From there the phone calls started, which led them to make plans for an in-person get-together. "We chatted for a few weeks on the phone, and I was ready to meet," Robin reveals. "But I didn't think he was my type. I thought he'd be 'too nice…'"
On the other side of it, Anthony did wonder if Robin might be out of his league. "She's a go-getter. Independent. Self-sufficient. I wasn't used to dating someone like that… But after a few phone conversations, I was ready to meet!"
The pair convened at a local restaurant for Sunday brunch. Robin's first thought upon laying eyes on Anthony was one of relief. "Thank God he's tall!" she remembers thinking. "And he smelled so good!"
Anthony says he was struck by Robin's "big smile and country accent," which he found very charming. He also liked the way she put him at ease. "I was nervous, and she had a calming presence," Anthony reflects. "I could not take my eyes off of her!"
Robin felt their rapport working right from the start. "It was easy," she marvels. "I didn't want it to end." After Date No. 1 the singles were "100% sure" and "absolutely sure," respectively, that they should do this again.
Something Anthony's profile didn't fully capture was his playful energy. "He is tons of fun and not as serious as his profile pics looked," Robin points out. Anthony really appreciates Robin's upbeat demeanor. "She's energetic and engaging," he says.
Asked what obstacles they had to overcome in the process of becoming a couple, Robin and Anthony's simultaneous response is an emphatic, "None!"
For Robin, it was pretty clear right away that Anthony was the guy for her. "I knew it the minute I met him," she declares. Anthony tells us they had three dates in the first week! "I knew I liked her," he laughs.
One day, the couple's certainty about their future together was confirmed. "I took him ice fishing on a day off from skiing," Robin begins. "At the end of the day he proposed on the frozen lake. I was totally caught off guard! I took him ice fishing, but I caught the ice!"
For Anthony, proposing was the obvious move to make at that point. "I know I have a true partner...for the first time in my life," he declares.
Asked how finding love has changed her life, Robin has a lot to say. "Oh my gosh! It's amazing to have someone supportive, emotionally mature, financially stable... I have had zero doubts. I've had no stress in this relationship."
Here are her suggestions and encouragements for everyone reading this who hopes that online dating will help them find Mr. or Ms. Right. "The right person is out there," Robin promises. "Be clear in 1) what you want in a partner, and 2) how you want to feel with them. And 3) be INTENTIONAL."
That last bit of advice resonates with Anthony. "Definitely be intentional," he affirms. "And if you're looking for a life partner, be honest about that. If you're not, be honest about that, too! Please don't waste anyone's time who isn't on the same path as you."
Looks like Robin and Anthony are definitely on the same path now!
2 responses to "They Had Hit The Jackpot In Their Search For Love"
Leave a reply
You must be logged in to post a comment.