He's Hoping for Many Years of Good Tea
Posted by Leticia, 15 Aug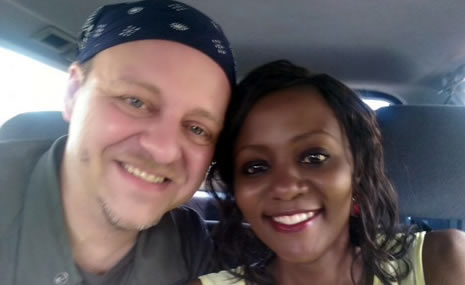 Lois tells us she decided to try her hand at online dating for two reasons… One, "I was always unlucky at love," and two, "One day a friend of mine recommended this site. And it was my first experience with this (internet personals)."
Here's why Brian chose to post a profile on our site: "I was not doing well at love but was trying to find something new," he says. "I was hopeful, though." He chose the username "1BlueyedBry" and started browsing.
Find your soulmate on LatinoLicious










For her part, Lois wasn't exactly brimming with optimism, either. "I was not confident at all," she admits. "I was just trying my luck!" She chose the handle "Kimuliflawa" and put up her pix.
Five months into Brian's membership and one month into hers, Lois spied his profile. She says that "his blue eyes and the funny words that described what sort of woman he wanted" stood out and sparked her interest. "I reached out to Brian by sending him a Flirt," Lois recalls.
"Her eyes and smile" prompted Brian to reply. And he's happy he did, as the pair immediately started learning more about each other. "After about six months of texting, exchanging photos, knowing each other's likes and dislikes, I believed it was high time we met," says Lois. Brian was more than ready to get together in person, too. "I was falling in love!" he exclaims.
They made plans to meet in Lois' home country, Uganda. She remembers thinking, when Brian got off the plane, "Isn't he SO handsome!" Brian had a similar reaction. His recollection is that "she's more beautiful in person than in the photos" was the first thought to cross his mind.
And so began a marvelous adventure. "We went to see the source of the Nile and other sites," Brian recounts. They visited beautiful waterfalls and continued to connect on multiple levels, as they had from afar. It surprised Brian "that there was no 'feeling-out process' or 'getting to know you' all over again. Our chemistry was still there!"
That's how Lois saw it, too. "It felt like we were longtime lovers," she reveals. "We meshed instantly." After this powerful experience Lois had little doubt their love story would continue. "I was already in love with him, and seeing him in person just confirmed it," she explains.
Their relationship has revealed certain things about each other that their dating profiles didn't capture. "She makes very good tea," laughs Brian. "He is so caring," Lois says of her partner. Brian "being funny" also came as a surprise to her. Lois says she really appreciates that "he makes me laugh all the time!"
Despite the distance between them, this duo decided to take the next step on a couple's road to lifelong commitment. Lois recounts Brian's proposal of marriage: "Ooh, dear! He caught me off guard," she giggles now. "We were in the hotel room. He knelt in front of me and asked if I would marry him. I thought he was joking! He stood up and told me to think about it and then went into the bathroom. When he came out he told me, 'Sweetie, I'm serious.' He knelt down again and asked me, 'will you marry me?' And I said yes! I was so sure by then."
Neither person has any regrets about the trajectory of their relationship. "I feel at peace, and loved," Lois says. "I believe I've found my true happiness," declares Brian.
"There's still hope even when you think you're at the end of the road," Lois tells members of our site. "If love has not found you yet, keep looking. There's lots out there!"
Brian agrees with this notion. "If I found love online, you can find love too," he reminds everyone. "Don't lose hope!"
7 responses to "He's Hoping for Many Years of Good Tea"
Leave a reply
You must be logged in to post a comment.