Simply Precious: Gabby Sidibe is in love!
Posted by Christelyn, 24 Jan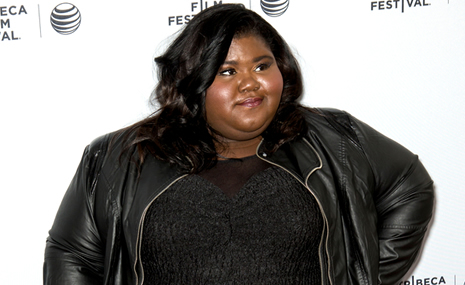 Photo credit: Ovidiu Hrubaru / Shutterstock.com
Trigger Warning
Find your soulmate on LatinoLicious










Before I begin, I will commence this blog with a trigger warning. We briefly mention Gabby's weight in this post, but that it is not the focal point of this article. The focus of this article is Gabby in love, and that one can find love at any size. If that angle on weight is still too triggering, please feel free to enjoy some of the other amazing posts on this website.
Another Note
Before some of you put on your keyboard warrior hat and drag me for including a connection to "Precious," Gabby's most famous role, please hold your fire. I will add my thoughts on that connection and contrast in the conclusion. There is a method to the madness here.
The internet has been abuzz over Gabourey Sidibe's blossoming relationship. It seems like the world woke up overnight and recognized the news. However, according to her boo, Brandon Frankel's Instagram account, they have been an item for some time now. He first featured her on his page in May 2019, and called her his girlfriend in July 2019 and even featured her on National Girlfriend Day in August 2019. (Do not quote me on this, but I believe that he is Jewish, as he shared a picture of him celebrating Hanukkah last year on Instagram. I like to be thorough when I creep. What can I say?)
I will give you a brief background on the two lovebirds. Gabby's claim to fame is the movie Precious. (I personally did not watch that movie, as I do not care to pay in order to be scared or traumatized. The struggle love movies can pass me by.) Despite being told to quit the entertainment industry due to her weight, this actress went on to act in Tower Heist (2011), White Bird in a Blizzard (2014), Grimbsy (2016), and the compelling drama Empire (2015-). Gabby is currently expanding her creative repertoire, with her directorial debut. Three years ago, following her Type 2 diabetes diagnosis and subsequent weight loss surgery, Gabby did an interview with People magazine, expressing interest in dating:
"I'm not very superficial. I like really funny guys, I like guys who are smart, I like people that read, I like people that have really interesting things to do, I like people that really enjoy their jobs," she says. "I don't want somebody who's like constantly stressed and in a state of their life that they don't want to be in — you've got to be upwardly mobile; that's emotionally, spiritually, physically and monetarily. And I'm not necessarily into look. I'm more into personality." – Gabby
I like that the two of them have a few things in common. For instance, they both work in the entertainment industry. Brandon Frankel is the owner of Contra Inc, a consulting firm that supports talent representation, brand partnerships, digital strategy and the like. They also both love cats, and include them as part of their family. Gabby has her pet Aaron. Sadly, Brandon's cat Peaches died recently. (I have included a quote from Gabby below, that highlights more of the things they share together.) It is lovely to see that she has found someone who loves her and is so willing to share his love with the world. While Gabby has been very private about their relationship on social media, you can't scroll more than twice on his Instagram profile without seeing her front and center. Personally, I think they look very cute together. I love this sweet message he left for her on Instagram, to welcome in the New Year.
"I'm truly thankful for my close family, friends, associates past and present...and most of all, for THIS Queen right here. You're a ball of sunshine, so generous and giving of your time and love- and your excitement and passion for life and people/things you love truly lights up my heart. You've taught me so much about life, myself, and the world that is truly invaluable. You make me push myself to be a better me, even though you probably don't even realize you are. I love you more and more every single day- which seems impossible, but continually amazes me. Here's to 2020- and thank you for loving me so unconditionally. I love being your forever-Dork."
In response, Gabby left the sweetest message back to him. She replied to the picture, stating:
"You're my favorite Love Song. You're the cherry on top of this last decade and the foundation of the next," she said. "I'm excited for all the matching hoodies, Mickey/Minnie outfits to DisneyLand, and your favorite shirts that somehow become MY favorite shirts. My cold feet, being warmed up by your USUALLY hot skin, al dente potatoes, f****d up rice and seasoned meat, cooked to burnt, yelling at the cats to come cuddle with us, alternating between trash reality shows and business reality shows like shark tank, competing to fall asleep first, walks in the rain, the snow, the heat, the mall, the jungle, cenotes and bat caves! We have so much to look forward to in the decades to come! You make me happier than I've ever been, I'm so glad we found each other and I'm gonna point and yell 'DOG!' for you, when I see one in public forever." – Gabby
We are all for seeing people in loving, happy relationships. Of course, we love to feature interracial couples on the blog, as that is a core part of our mandate. While we have discussed weight loss and health on the blog, we want to take a moment to highlight that everyone is beautiful and everyone is worthy of love and acceptance. Just because someone is overweight does not mean that they are undesirable or have no value. Value comes from within. You need to love yourself first, and the unique factors that make you "you." Men love that confidence and energy, and are drawn to it like a moth to a flame. Both men and women can find love at any size. However, different factors can pose challenges in the dating arena. There are men who prefer thinner women, and there are those who love women with curves.
As we continue to say on our blog and on our social media comments, it is important to find a man who aligns with your values. Get in where you fit in. "Go where you are celebrated, not where you are tolerated," has been the blog mantra for at least a decade now. (I cannot speak for the time when I did not follow the blog, but I am sure the messaging has stayed consistent.) The world is your oyster. If you are interested in a relationship, there is someone out there for you. (And when you find your special someone, please remember that I do couple spotlights on the blog, and would love to hear from you.) We see that Gabby completely destroys the stereotype that curvier women cannot find love. It is clear that she has been happily boo'd up for quite some time. Not only this man willing to shout his love for her from the proverbial rooftops, he shares his love in different ways:
He supports her in her career.
Brandon recently used his social media to promote Empire, the show that Gabby is currently acting in, and feature her work.
He will love her openly, on and off-line
They both attended Taranji P. Henson's birthday party together back in September 2019.
Last but not least, attraction is key
Your man should desire you and treat you like the treasure you are. Brandon loves her skin, her curves, her beauty and her intelligence.
The Road Not Taken
Is it just us here on the team, or are you noticing a trend? You have black women like Gabby Sidibe and Jodie Turner-Smith starring in black struggle/love films, like Precious and  target="_blank">Queen & Slim, but they are going home to to their white men without a care in the world. Unlike their characters in the movies, they know that they are beautiful and worthy of love and affection, wherever it may come. Let's take notes on the strategies, ladies. Some things are really, just business. After all, you see black men constantly pandering to us with these black love movies, positive or not, and then go back to their nonblack queens at home. Again, nothing is wrong with that at all. I will never fault someone for being with someone they love, no matter what colour they are. That said, what is good for the goose is good for the gander. Play the game to win, ladies!
One of my favourite poems of all time is The Road Not Taken by Robert Frost. (If  you have the time to read it, the poem is very short, with four stanzas.) I wanted to touch on this poem, as it basically describes our journey here as empowered and divested black women. We have a choice. We can continue to complain about all of the ills and dysfunction facing us as single, eligible black women, and stay where the odds are against us, or we can choose to expand our options, and date all men. There are good and bad men in every race. You will have to develop yourself as a person, and vet men as you go. Even after putting in all of that work, there will be challenges wherever you go. However, you can follow everyone else like the proverbial lemming, or you can take the road less travelled. It may, in fact, make all the difference. Christelyn discusses this more in her video below:
5 responses to "Simply Precious: Gabby Sidibe is in love!"
Leave a reply
You must be logged in to post a comment.