From Painfully Honest to Blissfully Happy
Posted by Leticia, 05 Feb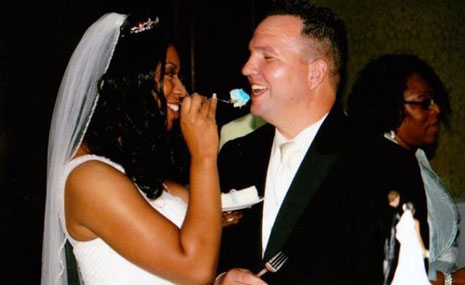 Something drew members "Lily_Rosie" and "jack213" to one another. They lingered on each other's profiles, saw something that spoke to them, and clicked the button to reach out. These singles bridged the broadband gap and now they are much more directly connected — they're married! 
Shannon joined our site because she didn't feel she had much choice. "As a single mom working full time, traditional dating was too hard for me," Shannon informs us. "I knew I was not going to find love in my immediate area. I tried other sites with high hopes. Then I came to you after a Google search. Your site brought me the love of my life!"
Find your soulmate on LatinoLicious










However, Shannon wants to remind readers that her happy outcome was a long time coming. "Don't give up! I joined this site, hoping for the best, and it took me three years to meet this man. It took another three before we married. It doesn't happen overnight! I know we wish it would, but it doesn't."
Paul was a divorced father of two. He begins his part of the story… "This was my first time with online dating. I was divorced and my children suggested I give it a try. I was very skeptical, but I hoped for the best. I had heard some horror stories from friends."
Our site stood out to him as his best bet, so Paul took the plunge and signed up. After two months with us, he saw Shannon's profile and was impressed. "Her pictures blew me away. She was very down to earth, and just so beautiful. She was everything I wanted and more." So he sent her an email…
Shannon read it with certain criteria in mind. "My biggest factor was that my match have children and be comfortable with me having children," she tells us. Looking at Paul's particulars, she saw that he was in a similar situation. "It worked perfectly. His initial email was so honest and straightforward. I was attracted to his honesty from the beginning. He told me he was a single father who loved his girls and that was all I needed to hear. I thought he was very handsome in his pictures, too!"
So she wrote back and they opened up a dialogue. Paul says that Shannon didn't come off as someone who knew her profile photos were "stunning," as he describes them. He observed that initially she was "very quiet and shy, and it really caught me off guard." Shannon was just nervous and warmed up pretty quickly. "He was very honest and open," Shannon reports. "He was easy to talk to."
Paul is grateful that he took a candid, "lay it all out there" approach. "Be honest," he advises singles. "I told her everything, probably some things she didn't even want to know, but I didn't want her to be surprised by anything during our relationship. Some parts of your past may be embarrassing or painful, but it's best to let people know upfront, rather than find out the hard way. I wanted an honest relationship with a good woman, and I got that by putting myself out there. It may be hard, but honesty is the best way to gain someone's trust."
To confirm their perceptions of each other, the pair scheduled their first date. "I wanted to see if the chemistry we had on the phone would be the same in person," explains Shannon. Paul jokes, "I had to see if this beautiful person was real!"
When Shannon first laid eyes on Paul, she wasn't disappointed. "He's adorable!" she thought to herself. "What a cutie!" He remembers his first thoughts being along the same lines. "She's even more beautiful in person. Am I being punked?"
Shannon says she was most surprised by "how we immediately clicked. I just felt so comfortable with him. Our first date was so romantic. We didn't want to leave each other's side for a minute." Paul noticed a turnaround in her demeanor. "She was so warm and friendly, definitely not shy!" He immediately asked her out again and Shannon was eager to accept his invitation. She tells us that Date No. 2 presented another point in Paul's favor. "He can cook! On our second date he cooked, and that was a wonderful surprise."
As this romantic liaison evolved from dating into a relationship, the wonderful discoveries kept coming. Paul reflects, "I'm finding out new things every day that make me love her more."
We're sure you're wondering how Paul proposed. Shannon provides the answer… "New Year's Eve of 2012, we went to Atlanta. As the peach-drop countdown began, he got down on one knee and proposed in front of everyone. Of course I said yes!!! I'm happier than I can ever imagine being."
Paul is still marveling at his good fortune. "She has shown me what real, true love is," he says. Shannon adds, "I have told my friends and family that online dating can work. Be open to the possibilities. I always had hope and faith and believed that my love would find me, and he did! I'm so happy I joined this site. We would never have met otherwise. THANK YOU!"
All in a day's work, Shannon!
375 responses to "From Painfully Honest to Blissfully Happy"
Leave a reply
You must be logged in to post a comment.