Asking a friend out can ruin your friendship! 6 tips on how you can avoid that.
Posted by Ria, 17 Mar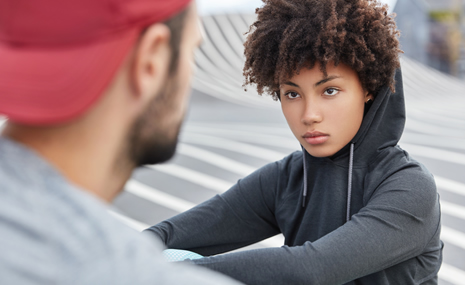 So, you want to know how to ask a friend out on a date without being awkward? What if they don't feel the same? What if they crack up in the middle of your love-pledging over-rehearsed speech? Here's how to prepare yourself when asking a friend out.
1. Be prepared for a "no"
Find your soulmate on LatinoLicious









Apparently, the chances of being turned down are four out of five. If they do, just know it has got nothing to do with you as a person. They probably have their reasons why you are their friend and nothing more.
It will be painful, embarrassing, and might even bring some awkwardness in the relationship. The consequences are unpredictable and can even be irreversible. So prepare yourself emotionally and psychologically.
2. Ensure your feelings are real
Feelings are often blurry. For instance, your friend may have gotten a makeover or changed their entire look, and suddenly, you feel this weird attraction.
Sometimes it can happen when a friend is there for you when you're going through a tragedy. This can stir feelings that can be interpreted as love when probably all you are actually feeling is gratitude and gladness that they were there. Before confessing your love, make sure that your feelings are accurate and truthful.
3. Test the waters before the big dive
The best way to start making your interest known is when the two of you are hanging out with other friends. Sneak in a private compliment or whisper it just so your friend knows it was for their ears only. Catch the drift?
Try to flirt a little and then wait to see if there's a reaction. If they flirt back, this will give you the confidence and break a little ice for the next move.
4. "Read the room"
Make sure you don't confess your feelings at an inappropriate or unbearing time. No matter how impatient you might feel, asking a friend out immediately after a breakup is a NO- NO!!
5. Be clear about your intentions
Make sure that you are honest about your feelings. Explain everything coherently without being jokey about it. If you want your friend to take you seriously, you need to clearly convey that what you are feeling is your truth.
Try this: "Hey. I need to tell you something that has been eating me up. I know we have been friends, and I respect that. But my feelings for you have developed into something more for a while now. So, I'd really love to take you out on a date if you'd let me. No pressure." Just be upfront.
6. Be respectful of their reaction
It's harder for men to ask a lady friend out because she could interpret your entire relationship as a ploy for you to get into her pants. So after dropping that ball about being in love, let them know that there is no pressure and that it is ok if they don't feel any romantic feelings for you. Let them know that your relationship comes first.
If they don't feel anything romantic for you, respect their feelings. It will be awkward, that's for sure. But if you are a grown-up about it, all will be well. If it is going to be hard to continue being friends, let them know immediately.
Conclusion:
On the other hand, if the stars are lined up for you and say 'yes,' remember, dating your best friend without ruining a friendship can be challenging. The dynamics are going to be different. So, tread carefully, but have fun exploring this new side of your relationship. Some of the best, long-lasting relationships stem from friendships.
1 responses to "Asking a friend out can ruin your friendship! 6 tips on how you can avoid that."
Leave a reply
You must be logged in to post a comment.