Why are Asian men and Caucasian women couples more common lately?
Posted by Ria, 17 Oct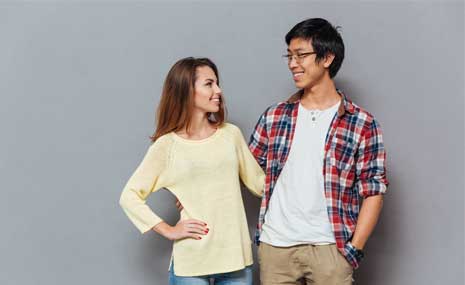 Have you noticed a recent surge in Asian men and white women being together lately? Bruce Lee and Linda Lee Caldwell were one of Hollywood's first Asian man/Caucasian women celebrity couples … and that was in the 60s! So what's changed?
The question is, why is this interracial combo not as widespread as other interracial combos?
Find your soulmate on LatinoLicious










There is definitely a higher percentage of Asian women with white men than ever before. Why?
The video below was taken by video crew who asked random and predominantly Asian guys and girls "Why Asian girls are attracted to white guys". Guess what... Stereotype! Stereotype and more Stereotype!
According to the video, most respondents described Asian men as being too shy or unassertive. The woman also stated Asian men were too effeminate and even too short! Apparently this is turning Asian women away and they are beginning to look elsewhere.
Asian stereotypes have been created by society in general. Enough articles have been written about what I would like to call stereotypical racism in the Asian community – for instance, how Caucasian men actively seek an Asian woman because of their exotic looks and supposed submissivenes?. How many have this so called Asian fetish or yellow fever?
Asian females, on the other hand, have constantly been disgraced and labeled "white-washed" women busy trying to climb the social ladder by their own communities and are finding more acceptance with races other than their own.
So what about the rise of interracial relationships between the Asian man and Caucasian woman? Is it that Asian men are fed up with their female counterparts and that they take revenge by dating Caucasian women? (just a thought) Or just that there are fewer Asian females in their dating pool so they are expanding their own horizons?
My conclusion is that maybe it's not that at all. I think people should be intelligent enough not to allow trivial stereotypes to conform to their preferences on who to date. Why do you think there is a rise in the Asian man-Caucasian woman interracial combo?
447 responses to "Why are Asian men and Caucasian women couples more common lately?"
Leave a reply
You must be logged in to post a comment.