Weird Valentine's Gifts Your Sweetheart Will Love
Posted by Liam, 31 Jan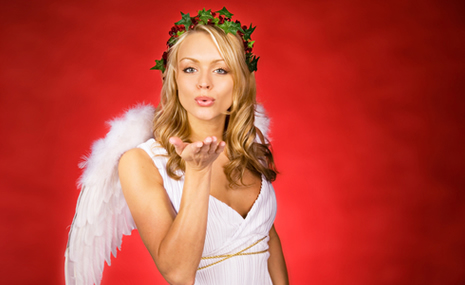 Most people usually love this holiday of love because even those who usually have trouble giving their loved ones gifts usually feel obliged to do so. That is why most people get excited over this day because they expect to be surprised.
What most of us get is flowers, some candy, cards, stuffed animals bearing heart-shaped pillows… you name them. You know them and I am sure it won't come as a surprise if you get the above-aforementioned gifts. But has it ever occurred to you to try and do things differently? Well, in this article we are giving you a few ideas of weird Valentine's gifts that might seem unconventional but are worth a try this year?
Your perfect partner could be online right now...
What are you looking for?
The thing is, most people are looking to be pleasantly surprised. Your sweetheart is not any different. Plus, we don't want you to be confined to just picking the same generic valentine's gifts everyone is at the stores in the hopes of getting them while in stock. If you are looking for some great weird valentine's day gifts ideas to knock his or her socks off, confine yourself no more. With these ideas, you sure will get lots of love from the one you love.
Let's check out a few exciting ones
Unsual Valentine's day gifts
Vulgar Cookies
Can you imagine the look on your Valentine's face when you present him or her with a box full of cookies with vulgar messages of the things you plan on doing in the evening or things you love doing to him or her? Well, if you feel like being too foul-mouthed with those messages is going to be a turn-off for her, try stating your dirty intentions with more subtle phrases like "I love making love to you" or "I f**king love you" and see where that leads your evening.
Cocktail flavored jelly beans
One thing about boxes of candy that we are gifted with on Valentine's Day is that they go so well with our alcohol. Well, guess what, these cocktail-flavored candies allow you to enjoy both worlds. Gift your loved one after dinner or an evening stroll. Trust me, you will be eating those babies off each other's mouths.
Cupid costume
Yes! We know all about the association of cupid and Valentine's Day. Well instead of just having the idea in your mind, you can be 'cupid'. Instead of your usual lingerie, wear that and have some role play and a little poking with cupid's arrow to spice things up.
Inflatable vibrating sex chair
This is another furniture-like sex toy that may take up some room, but it's an affordable, fun, and unique valentines day gift. Now this one is going to be the perfect valentine's gift for your lady, especially if you are in a long-distance relationship. Just imagine her bouncing up and down on a cute pink giant balloon with a vibrating penis right in the middle of it. Plus if you are single on Valentine's you could gift yourself this one too. That will pretty much sum up what it's like to get your 'yeah-yeahs' on this fun bag.
Make a scrapbook of your old text messages
Some of you might think that love letters are dated but they are not. They just aren't the same seeing as people are used to sending their back-and-forth sweet nothings via texts. I know of people who are so sentimental that they never delete their text messages – especially those with special messages. You could take these messages, copy-paste them and print them out nicely and make a scrapbook out of them. Add those nudes to that scrapbook lol.
Genitalia candles
A vulva or penis-shaped candle can be a hot Valentine's Day gift. This can be a very perfect visual aid to set the mood as well as speed things along for the late-night activities.
Create a romantic collage of your pictures and reminisce about them
You don't need to break the bank just because it's Valentine's Day. Now you might think that your partner might think of a romantic photo collage as one of the weird Valentine's gifts but this one will shock you. No matter how simple some gifts can elicit romantic and lasting emotions. Put together a bunch of cute pictures of both of you and as the two of you go through them, play their favorite song in the background.
A humongous Teddy Bear
Ladies love stuffed animals. Plus, stuffed animals usually go with the mood of Valentine's Day. But can you imagine the look on her face when you show up with or sneak in a humongous cuddly teddy bear with "I love you" on it that she can wrap its limbs around? Think about it… That might be the answer to your search for an unusual Valentine's day gift for her.
Rimming Simulator
Now, if you have never introduced a little anal play in your bedroom, this could be the time to introduce the rimming stimulator into your bedroom with this unusual Valentine's day gift for him. This vibrating butt plug will help you discover a whole lot of new fun and pleasure to be had at your back door. This unique anal toy has rotating beads on its neck. That backed with the intense internal vibration, will take both of you to another level of Valentine's day fun.
Heart-shaped pizza
A lot of us really love pizza. Nothing will make Valentine's dinner more special than a sizzling heart-shaped pizza. These heart-shaped pizzas can be the perfect pick for Valentine's day especially if you will be having a busy day. Besides the fact that they are cooked into a heart shape is that they are cheesy, saucy, and versatile. Guess what? These heart-shaped saucy-cheesy fellas will soon be replacing the boxes of chocolates as the signature of February love.
The thing is, whether you like it or not, it's the time to get your special someone that unique gift to celebrate your love and probably appreciate them for being in your life. If you choose to go with one of the above weird Valentine's gifts, remember, the perfect gift isn't necessarily the expensive one. Just let it be a special straight-from-the-heart gift. And if you feel that the ones mentioned in this article are a bit extreme or too eclectic for your taste, you still won't go wrong with the good ol' bouquet, chocolates, or a bottle of his favorite scotch.
Responses to "Weird Valentine's Gifts Your Sweetheart Will Love"
Be the first to leave a comment
You must be logged in to post a comment.