Tika Sumpter's stunning Cabo wedding to Nicholas James!
Posted by Leticia, 01 Aug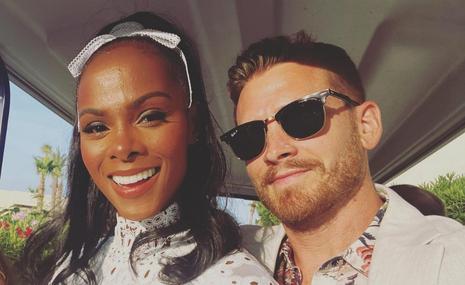 Congratulations to Tika Sumpter and Nicholas James, as the pair tied the knot in one of the most stunning destination weddings we have ever seen!
And thanks to Brides magazine, we have actually seen quite a lot of it, as the newlyweds are the publication's cover stars for its 'Destination Weddings' issue!
Find your soulmate on LatinoLicious










The couple – who met while filming The Haves and the Have Nots – got engaged on Christmas Day in 2016, and are parents to 5-year-old daughter Ella-Loren. And they have shared a huge part of their wedding day with Brides, which fans are no doubt so grateful for…
Inside the mag, fans can see some truly stunning pictures of Tika and Nicholas' special day, which took place in Cabo San Lucas, Mexico back in May this year; and also get some more intimate details about the ceremony!
(We love it when celebs don't hold back! Sharing is caring, after all!)
One thing that took us by surprise was what Tika revealed about her truly breathtaking wedding dress, as she confessed that the strapless Galia Lahav gown was just one of four dresses she actually tried on! We guess when you know, you know!
"I kind of knew right away. It wasn't about the destination. It was about how I felt in the dress," the 42-year-old Sonic the Hedgehog 2 actress told the mag.
"I wanted to feel sexy, but I also wanted to feel like a bride. This is my first and last wedding, I'm praying, so I just wanted to kind of blow it out."
And blow it out she certainly did!
Even though the Ride Along actress has gotten dressed up and walked hundreds of red carpets over the years, she revealed that walking down the aisle doesn't compare…
"I'm usually anxious before a red carpet. There's a different level of pressure to that," she revealed.
"This didn't feel like pressure. This day was one of the most special days of my life besides having my daughter, and I just want to feel and look special.
"When that feeling came, I knew it was it. A red carpet is for work, right? This is for our lives."
Another detail Tika shared about their incredible wedding was her emotional walk down the aisle with her mother…
"My father, Arthur Curtis Sumpter, died when I was 13, unfortunately. I'm so grateful that my mom got to see this moment," she said.
"As we were walking down the aisle, all of a sudden the wind really started blowing, and I thought, 'Is this a blessing? What is this?'
"My mom was busy trying to make sure the back of my dress was okay, but I was really at peace. To me, nothing could go wrong at that point."
And we're grateful that Tika went into detail about their vows too, which they said they wrote themselves and exchanged at the altar with their daughter by their side…
"I think mostly we wanted to be honest with one another," Tika said.
"We not only went over the great things, but we also recognized the hardships we had getting us to the point where we are now."
You can read more details about Tika and Nicholas' wedding – and see more truly spectacular pictures from their dream-like day – in the latest issue of Brides!
Congratulations again to the newlyweds!
2 responses to "Tika Sumpter's stunning Cabo wedding to Nicholas James!"
Leave a reply
You must be logged in to post a comment.