How to Keep the Romance Going after Valentine's Day
Posted by Liam, 16 Feb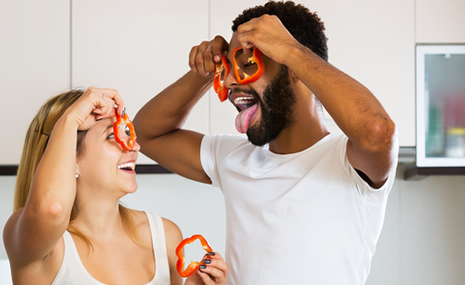 Did you and your special someone enjoy your romantic day? Did it ignite some spark in your love life as you showed each other love in unique ways? If the answers to the above questions are 'yes,' you want to keep the spark after Valentines Day. Love and romance don't have to die now that February 14 is over. Romance should go on all year round if you want to have a fulfilling relationship. Well, let's take a look at how you can maintain that spark moving on...
Post Valentines Day romance

Your perfect partner could be online right now... What are you looking for?
Have fancy romantic dinner dates
You don't need to get all fussy about having a romantic dinner date. You don't even need to make fancy dinner reservations. You can always whip up something delicious for your special someone at home. You want to maintain that connection that you made the other day. If it is your date night and you don't feel like going to a restaurant, there are a lot of romantic dinner recipes that you could try out at home. If none of you can cook, order in and set it up romantically on your dinner table.
Develop kitchen love
The strength of your love can also be developed beyond your dining room table - in the kitchen. People say that couples who cook together stay together. Likewise, you can build a strong bond by learning about new food recipes and experimenting together. Try recreating a meal that you had at your fancy restaurant together to keep the spark after Valentines Day. Even if it doesn't come out as it should, you will have something to laugh about together.
Continue giving each other little gifts
You don't need a special occasion to say I love you with gifts. Everyone enjoys such little surprises. So keep giving each other gifts. It doesn't have to be expensive. Bring your loved one their favorite cookies on your way home. Buy a flower and tell them how special they are to you. Bring home a beautiful pebble that will remind them of you every time they see it. Just find ways of gifting one another that say they are always on your mind.
Leave each other cute notes or cards
As much as actions mean louder than words, words are equally important. They can really strengthen your relationship. So write a post Valentine note and slip it in their pocket, diary, or handbag. When your loved one finds it, he will really beam. Such messages also go a long way in making your significant other look forward to seeing you sooner.
Plan a surprise weekend getaway
Surprising your loved one does boost romance. Seeing as Valentine's is over, the prices of most holiday destinations will definitely be lower. Take advantage of these unbeatable prices and plan a surprise weekend away, or have a night away from home. Being in a new environment away from your usual clutter and distractions at home can keep the romance alive. To make it a real surprise, pack an overnight bag for your special someone and surprise them at work as you head on to your secret destination. Go make new memories together.
Try new things in the bedroom
Whether we like it or not, sex is an essential part of any healthy romantic relationship. However, just because Valentine's Day is over doesn't mean that you go back to your comfort zone. To maintain the chemistry and keep things fresh and exciting, continue spicing up sex after Valentines. Some suggestions are sex talk, sex toys, power play, bedroom games, bondage, and anal play. Whether it's introducing new sex positions to surprise your man or taking your sexual adventures out of the bedroom, the only limit to spice up your relationship is your imagination!
Responses to "How to Keep the Romance Going after Valentine's Day"
Be the first to leave a comment
You must be logged in to post a comment.